If you wanted to sign up, heres where, scroll down until you see something that interests you.
Perfect People Need Not Apply
If you have a heart and spirit for a ministry, we will equip and train you. Currently we are looking for the following volunteers.
Apply in person any Sunday Morning!
There are several different ways you can help. You can be the first person to welcome people. You can even give gifts away to new people that come. Maybe you aren't a people person, but you do want to help; we need people who will enter peoples attendance into our system.
Youth and/or Children, Volunteers
Did you know that if each parent took one Sunday a month to assist in this area, we could immediately expand these ministries to welcome more Children/Youth? But you don't have to be a parent to help, and we know that not every parent has time. This is a vital ministry to our church, and a priority to our mission. Background checks needed for certain positions.
Our elves may not be as good with a bow and arrow as the ones in Middle Earth, but they are the best at spreading the news about the church on the different Social Media platforms. Because these people represent the church as it faces the public, there is a short training.
It takes input from many people to help us come up with new ideas, themes, and series for worship, events, and everything else we do. There is always a table in the back of the worship space where we have sign-ups, or you can just ask, we would be glad to introduce you to he others you will be working with.
Our Menu for October 20th is
Ribs,
Baked Potato
Salad

Our Menu for October 27th is
Sandwich Bar,
Soup,
Salad
Ron's Famous Cinnamon Rolls

Our Menu for November 3rd is
CHILI COOK OFF!!!!!
The last couple years have laid bare the reality that life is fragile, and that has forced many of us to face some of our fears. But there are many fears left to conquer in this era of anxiety. In this series, we will look at Job, Gideon, Jeremiah, and more as they travel through fear and into faith. We will even take a trip through the valley of death, sounds scary, huh? We currently offer two in-person services (Sunday 8:30 & 11:00), currently we are wearing masks during worship. We have several online and live-stream options available.
But wait, there is more...
Why are there Little Red Ducks Everywhere?
These Piedmont Ducks are to help us to share our fears in a fun and creative way. Get one from church and take pictures of your duck with the things that cause fear (it doesnt need to necessarily be your fear). You could even use the ducks to show us the fears you have overcome in your life. Send those pictures to office@piedmontumc.org, upload them to our Fear & Faith discussions on Facebook or in the Piedmont UMC App. Be creative, have fun with it. We will do something fun with all the pictures at the end of the series.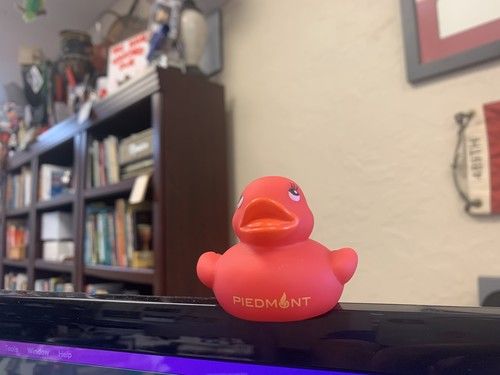 Everybody loves meetings right? Actually, this meeting has changed a lot since I joined the Oklahoma Conference in 2015. Leaders are required to attend, but it is open for anyone. It is a good way to learn about where our church, our district, and our conference have been, and where we will be focused in 2022 and beyond.
Trunk-or-Treat October 31st
6pm until all the candy is gone
Let us share some love, and candy with our neighbors on Halloween! This promises to be a big year for Trick or Treating. Dress up, and dress up your trunk, fill it with fog machines, lights, even gremlins if you want, just don't forget to bring candy for the little ghouls and goblins we will share God's Grace with. There will even be a prize for the best design. Sign up below.

FOR THOSE WHO CANT ATTEND BUT STILL WANT TO SUPPORT US:
Thank you for being a blessing! We would love your support by bringing candy during the month of October (we promise the Pastor wont get it). This way we can make sure the people serving do not run out of candy so fast.
Find and Use your Spiritual Gifts
Every child of God is filled with the power of the Holy Spirit,
specially gifted to play a unique and valued role in the body of Christ.
No one is without gift or purpose.

Spiritual gifts are not our talents or skills.
They are the grace of God at work within us,
empowering us to match our deep passions with the world's deep need.
The gifts are given to individuals,
but they are given to build and strengthen community
and to meet the needs of those around us.

Begin the journey. Discover your gifts.
Talk about your gifts with others.
Strive together to understand your gifts and how you can use them to serve God, neighbor, and world.
You have been gifted. You have been given a purpose.
Chili Cook Off November 3rd @ 5:30
Here is another annual tradition that we are bringing back; the Chili Cook Off! Who will win? Who will need Pepto? Come, find out on November third.
If you want to compete, you need to bring at least one crock-pot, we will supply the power. Sign up here.
Saturday November 6th,

8am - Till were done
Let's work together
to make our small part of the Kingdom
Warm and Welcoming for our future families.

Here are some of the things we will be doing.
Cleaning Glass
Polishing Wood
Touching up Flower Beds
Cleaning Light Fixtures
Changing Light Bulbs and Air Filters
Replacing Damaged Ceiling Tiles
Steaming Carpets
Sanding and Painting
Placing Floor Molding in the Choir Room
If you want to help us on this day, please let us know,
submit the form below.
Show Your Piedmont PRIDE!
Now you can show off your Piedmont PRIDE with premium clothing at a reasonable price, while also supporting your church. 10% of all sales are returned to the church and help us to pay for future hospitality and outreach efforts into our community.

You can choose from Polo's, Dress Shirts, Fleece, Outerwear, and more. As more becomes available, more will be added.